About Us
Come visit our shop & chat with the most caffeinated Christian store owners in Texas!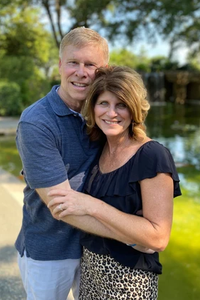 Brad & Beth King - Owners
Holy Grounds Shop is located on Main Street in downtown Grapevine, Texas (halfway between Dallas and Fort Worth, and close to DFW airport).
Our online store has a great collection of gourmet coffee available, along with sculptures by Cindy Burden, and gift certificates. We always fulfill your online order the same day, or next day at the latest.
If you are interested in our Bibles, Christian books, jewelry and our other charming gift ideas, come visit us at our Main Street store location! Outstanding service and a friendly atmosphere is our goal every day, and we pride ourself in helping you find that special gift for your loved one. We also have a great supply of First Communion, Confirmation and Baptism gifts. And the largest selection of Nativities and decaf coffee in the Metroplex.
We have been told by many that they always feel at home in our shop. From the smell of coffee when you walk in the door, and the greeting of Annie, our black lab, to the gospel music of Randy Travis and Alan Jackson, we want you to feel welcome!
We consider ourselves blessed to be able to do the work of the Lord on Main Street in Grapevine, TX. In addition, we have a prayer wall with hundreds of prayer requests lifted up every night after we close. We would welcome your prayer request also.
Most of our gifts are made in the USA--- we shop locally first---with many beautiful arts and crafts, created in Texas. And we are always kid and dog friendly.
Located in Historic Downtown Grapevine Texas